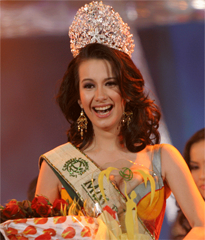 The most prestigious coronation night for Miss Earth 2008, one of the three largest beauty pageants in the world was held last evening at Clark Expo Amphitheater in Angeles City, Pampanga. Miss Philippines Karla Paula Henry, who bested 84 other candidates vying for the title, was crowned as this year's winner for Miss Earth 2008. I didn't expect that she would win this title. Well all I can say is that beauty and brains really plays an important part in this prestigious beauty pageant.
The Filipina beauty queen and Cebu-based model not only garnered the Miss Earth title, she even won the Miss Photogenic Award, as well as the Miss Earth Designers Award. But what really made the judges decide as to who's their bet for the title? Well, each of the final four candidates was asked, during the final question and answer portion, what they would tell US president-elect Barack Obama about the state of the global environment if ever they were to meet.
Check out Miss Philippines' answer to the question and the list of Miss Earth 2008 winners after the cut.
According to Karla:
"Environmental knowledge is something that all of us must share, but most importantly we must teach the youth that this is something that we should instill in them so that in the near future they will be the ones to take care of our mother Earth,"
That's what women here in the Philippines are made of. Winners.
Here are the list of Miss Earth 2008 winners and Special Awards:
Miss Earth 2008 – Karla Paula Henry (Philippines)
Miss Earth 2008 Air (1st runner-up) – Miriam Odemba (Tanzania)
Miss Earth 2008 Water (2nd runner-up) – Abigail Elizalde (Mexico)
Miss Earth 2008 Fire (3rd runner-up) – Tatiane Alves (Brazil)
Miss Earth 2008 Special Awards:
Miss Photogenic – Miss Philippines
Best In Swimsuit – Miss Mexico
Best in Long Gown – Miss Venezuela
Miss Earth 2008 Top 8 Finalists:
Mariana Rodríguez (Colombia)
Adriana Reverón (Spain)
Nasanin Nuri (Switzerland)
Daniela Torrealba (Venezuela)
The Miss Earth 2008 Top 16 Semifinalists:
Hana Svobodová (Czech Republic)
Seo Seol-hee (Korea)
Uko Ezinne (Nigeria)
Karolina Filipkowska (Poland)
Ruxandra Popa (Romania)
Anna Mezentseva (Russia)
Piyaporn Deejing (Thailand)
Jana Murrell (USA)